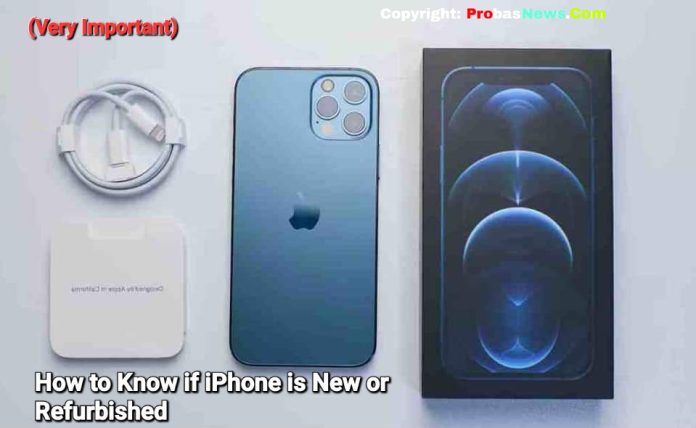 How to Know if iPhone is New or Refurbished (Very Important)
It is not unknown to anyone that the price of iPhone is relatively higher than other phones in the market. Buying a new iPhone can be reassuring, but buying an old iPhone or an iPhone from a special deal leaves you with a dilemma about what kind of phone you're buying. There is no end to the controversy, especially when it comes to refurbished iPhones.
Are you going to see the new refurbished iPhone? Are you just being handed a refurbished iPhone? In this post we will know how the iPhone Refurbished Police report it. More detailed information on buying refurbished iPhones can be found in this post.
How to understand if the iPhone is refurbished
There are several ways to tell if an iPhone is refurbished, new or a replacement unit. First of all, you can know the information from the phone's settings app, and you can also know the information by contacting Apple Support. You can know our post on how to recognize a refurbished iPhone.
Using model numbers.
Enter the iPhone's Settings app to find out if the iPhone is refurbished or new using the model number. Then enter the General option and tap on About. Then you will see the model number of your iPhone. You can know the usage status of your iPhone through this model number. This model number starts with four letters M, F, N, P. Each letter indicates the phone's status, meaning: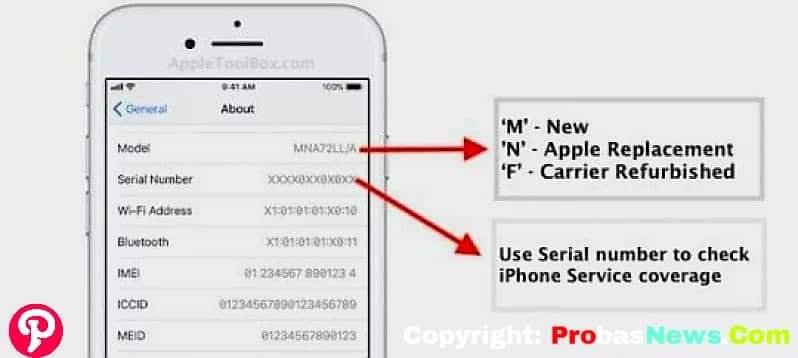 M: The iPhone is brand new
F: iPhone refurbished by Apple or carrier
 N: The iPhone is a replacement unit
 P: The iPhone is customized according to personal preferences
Besides, the warranty status of the iPhone can be checked using the Serial Number.
Contact Apple Customer Support
If you are not comfortable with buying an iPhone from an untrusted source in the first place, then it would be advisable not to buy the phone from that source in the first place. However, if you want to buy the phone, you can contact Apple Customer Support. You can ask Apple via phone call or email whether the device is refurbished, new or a replacement unit. But this process is quite long which will surely cause annoyance to many.
Difference between new and refurbished iPhone
A refurbished iPhone is an iPhone that has been previously used by someone else or as a display model in a store. It has to go through quality check process before sale. In this process, any problematic parts are replaced and the phone is graded depending on its age and condition. Refurbished iPhones are sold at much lower prices than new iPhones of the same model.
Refurbished iPhones work just like regular iPhones. The question may come, then the difference between the new iPhone and this phone? Refurbished iPhones may have scratches or signs of previous use. Besides these phones are functional but not completely perfect. Refurbished phones are replaced only if a part does not work at all, meaning most of the components are used in these phones.
For example, peak battery performance may be missing here. The camera works fine but the lens may have minor scratches. Refurbished iPhones are graded based on these factors, namely:
Grade A: Excellent or Outstanding
 Grade B: Good or better
 Grade C: Fair or serviceable
If you must buy a refurbished iPhone, it is recommended to buy only from Apple or a certified seller.
Should I buy a refurbished iPhone?
Now the question is refurbished iPhone is good? As mentioned earlier, it is best to consider buying a refurbished iPhone only if you buy from Apple or a trusted reseller. Also try to buy grade-A refurbished models if possible. Apart from this, avoid buying iPhone models older than three generations because these phones will not receive software updates very soon.
It's good to say that refurbished iPhones are more likely to have problems than new iPhones. Since these iPhones have been around for quite some time already, the problems that come with aging a device will naturally show up here as well.
If you're asking for advice, we'd say buy a new iPhone that will last you several years. If you can afford to spend a little extra, buying a new iPhone is better than buying a refurbished iPhone.
Types of Refurbished iPhones
In addition to Apple, carriers and third-party sellers also offer refurbished iPhones. But regardless of the source from which the iPhone is refurbished, it will be sold only if it passes proper quality checks.
The advantage of buying a refurbished model from Apple over other refurbished iPhones is that they come with a new battery and a one-year warranty. So buying a refurbished iPhone from Apple is much safer than other sources.
This is the story of the refurbished iPhone. The main goal of these phones is to enjoy the same benefits of the iPhone at a fraction of the cost. Now that you're well-versed in refurbished iPhones, be sure to check if you ever find a cheap iPhone on sale or deal to see if it's new or refurbished.
What is your opinion about refurbished iPhone? Should I buy these iPhones or is it better to buy a new iPhone? You can tell us your opinion or query about Refurbished iPhone in the comment section. 
More……

Option 2:
Another method is to go settings, scroll all the way down to battery capacity, and select battery health to view the iPhone's maximum battery life.
In contrast to mine, which is already at 99% of its maximum capacity after more than a year of use, a brand-new iPhone should have a 100% maximum battery capacity.
How to stay away from purchasing a 3rd Party refurbished iPhone
I personally wouldn't suggest anyone to purchase a 3rd Party refurbished iPhone unless it is absolutely required due to the numerous hazards involved. Here are some precautions you may take to avoid purchasing an iPhone that has been reconditioned by a third party.
1. Simply purchase from an Apple authorised reseller or directly from Apple.
2. If purchasing from a third party reseller is your only choice, you can seek the serial number of the iPhone and confirm the iPhone's warranty status on Apple's website before making a purchase.
3. Check the seller's return and exchange policies to be sure you can return the iPhone if it isn't brand-new if the previous t
wo options aren't an option for you.
Facebook Follow Me Sophia Ava 
How to Know if iPhone is New or Refurbished